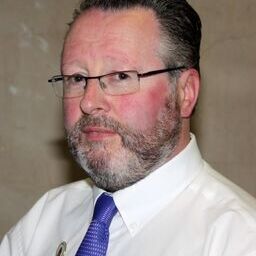 Gorry Research,
84 Ardglass,
Baltinglass,
Co. Wicklow,
W91 RH59,
Ireland.
Google+:   https://goo.gl/nYxY3U
Facebook: https://www.facebook.com/PaulGorryMAGI

Areas of research: All of Ireland
Special interests: Cos. Wicklow, Carlow & Kildare; Registry of Deeds
Paul Gorry has had a lifelong interest in local and family history, dabbling in both by the age of ten. As a teenager he joined the Kildare Archaeological Society, and in 1980 he was a founder of the West Wicklow Historical Society, of which he served as Chairman in 1980-1981. He has been engaged in genealogical research on a professional basis since 1979. Paul began his career as a freelance researcher for the Genealogical Office (GO). In 1980, with his colleagues on the GO's research panel he was a founder of Hibernian Research, the first independent Irish genealogical company. Since 1987 he has been researching entirely through the firm of Gorry Research.
Paul has been a member of the Irish Genealogical Research Society (IGRS) since 1980 and of the Society of Genealogists [London] since 1987. He served on the committee of the Ireland Branch of the IGRS served in 1986-1989 and 1997-1998. He was a founder member of AGI. He served as AGI's Hon. Secretary in 1988-1991 and President in 2007-2009. In 1989 he brought together a group of individuals to organise an international conference on Irish genealogy. This group staged the 1st Irish Genealogical Congress (IGC) in 1991. It was followed by three further IGCs, held in 1994, 1997 and 2001. Paul was Chairman of the IGC from its inception to 2002. He helped found the Council of Irish Genealogical Organisations (CIGO), and in 1995/1996 he also served as its Chairman.
Paul Gorry has written extensively on genealogical and local history topics. He has also published articles on Irish golf history. With his AGI colleague, Máire Mac Conghail, he was joint-author of the bookTracing Irish Ancestors, (HarperCollins, Glasgow, 1997). He also wrote Baltinglass Golf Club, 1928-2003, published in 2003, and Baltinglass Chronicles, 1851-2001, published in 2006.
Paul has considerable experience in teaching and lecturing on genealogy. He was joint co-ordinator of the Diploma in Family History course at Independent Colleges, Dublin, run in conjunction with AGI from 2009 to 2013. He has lectured at various events and venues in Ireland, England, Australia and the U.S.A. In June 1999 Paul was elected a Fellow of the Society of Genealogists. In September 2005 he was awarded the Fellowship of the IGRS.
Back to Members