Accredited Genealogists Ireland regrets to report the death of its former President, Henry (Harry) McDowell, genealogist, writer and publisher.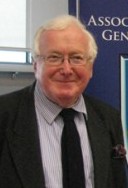 Harry's interest in family history began at a young age. In the early years of his marriage he worked in publishing in London and while there he was a regular visitor to the Library of the Society of Genealogists, then housed not far from where he lived with his young family in Chelsea. In 1965 he and his family returned to Ireland and for the next decade Harry was the agent for the Du Pont family estate. It was during this time that he began to take on work as a professional genealogist, making it a full-time career by the mid-1970s.
Back in Ireland, Harry purchased Celbridge Lodge, twelve miles upstream from Dublin on the River Liffey. It was built as a gentleman's residence by a merchant called Giles Shaw in the 1830s. Over the years Harry and his late wife Joan restored the house to its former elegance, becoming a home for the extensive private library of Irish genealogical material built up by Harry over the decades. In the 1970s, before there was an accrediting body in Ireland for professional genealogists, he obtained credentials as a member of the Association of Genealogists and Researchers in Archives (AGRA), based in the UK.  In the 1980s he was a founding member of Accredited Genealogists Ireland.  Harry retained membership of both AGRA and AGI throughout his career.
Richard Henry McDowell was born in 1933 in Dundalk, Co. Louth, the son of Richard McDowell and Eileen Tempest, who had married in Dundalk in 1924. In turn, Richard was the son of Robert McDowell, a farmer and magistrate, and his wife and cousin, Jane McDowell. The McDowells were a Presbyterian family which had been in the area for several generations. Harry's maternal grandfather, William Tempest, was a bookseller and printer who founded the Dundalgan Press.
From the foundation of Accredited Genealogists Ireland (then known as the Association of Professional Genealogists in Ireland), Harry was an active member. Serving on the Association's Council for many years, he was later its third president, serving during the years 2001 to 2003. In December 2011 he was elected to the Fellowship of AGI in recognition of his contribution over many years to the study and practice of professional Irish genealogy.
Harry was a longtime member of the Irish Genealogical Research Society and for several years served on the editorial committee of its annual journal, The Irish Genealogist. He was elected a Fellow of the IGRS in 1989. He served as President of the County Kildare Archaeological Society for five years, 2000-2004, and was a life member of the London-based Society of Genealogists.
In 2015 Dundalgan Press published his transcript of the surviving marriage registers (1806-1837) of the Dublin Lutheran pastor, the Rev. John G.F. Schulze, under the title Irregular Marriages in Dublin Before 1837. From his installation as minister of the Dublin Lutheran congregation in 1806, until his death in 1839, Schulze solemnised and recorded several thousand irregular marriages, which after some doubt were later deemed lawful. Given that most of the couples named were Roman Catholic, Harry easily recognised the immense value of this data and the need to put it in print. In 2016 he republished the Directory to the Gentlemen's Seats in Ireland, originally compiled and published by Ambrose Leet in 1814.
Outside of genealogy his interests included a love of Irish furniture which drew him into becoming a member of the Irish Country Furniture Society.  Harry was a genial man, and a pleasant and interesting conversationalist, which made him a great favourite with his AGI colleagues and many in wider genealogical circles.
We extend our sympathy to his daughters, Emily and Louise, his son-in-law John, and grandson Freddie.