Tony Hennessy, MAGI, Co. Waterford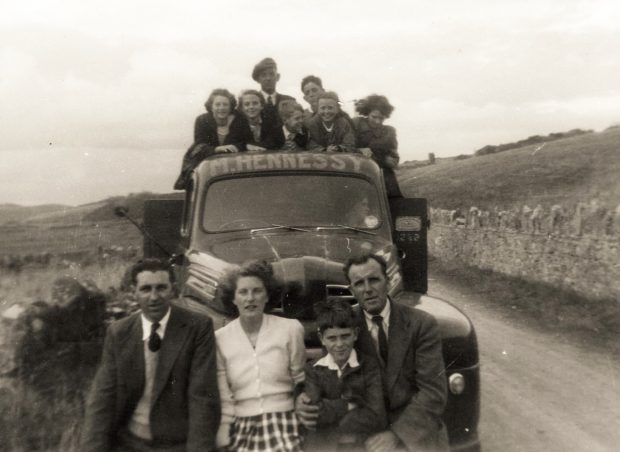 For my Image of the Month offering I have chosen a photograph from the family album which was taken c.1954 close to Annestown, the little seaside village and beach about 13 miles from Waterford City, here in the sunny south east. The photo was taken by my father. His family had a haulage business in Waterford and that's his grandfather's name Maurice Hennessy on the roof of the truck. My mother Breda, then O'Connor, is at the front with my father's brother Mossie Hennessy to her left. The photograph is, I suppose, unexceptional in some ways. However for me it vividly brings to life a hundred family stories of summers gone when the word would go out on the street that Hennessy's lorry was going to Annestown and half the neighbourhood, including prams, armchairs and dogs, would all climb aboard for a day at the beach.
Here in Waterford we are blessed to have had two long lasting photographic studios in the City whose photographic archives are now in public hands.
The Poole Photographic Studio was based in Waterford and their entire archive of 65,000 photographs spanning 1884-1954 are now in the National Library of Ireland. As well as Waterford the surrounding counties of Wexford, Kilkenny and Tipperary feature heavily in the Collection. Some 5000 images have been digitized and are free to view online while an online index to the entire collection allows one to order high quality copies.
The Annie Brophy Collection contains c.60,000 photographic images taken between 1922 and 1978. Annie Brophy (1899-1986) ran a photographic studio from her home in Barker Street, Waterford. Her entire archive was purchased by Waterford City Council in 2005. About a thousand photographs have been digitized to date and can be seen on the Waterford City and County Council website. The index catalogue is not yet available online.
While the above two Collections are a wonderful source it will be noted that, like many photographic collections, they did not, for economic reasons, include many of the 'plain people of Ireland'. And of course almost all photographs were taken within the formal surroundings of a studio.
I like to think that the photographs we all have in our own family albums, while they may not always be perfect photographically, do capture a lot that the formal portrait does not: a candid moment, the essence of a story, a connection with the photographer, a familiar setting. They also build for us a visual and emotional bridge to our own family's past that names and dates on a page can rarely achieve.