SAMUEL SMYRL MCCURRY, 1855-1946.
Steven C. ffeary-Smyrl, M.A.G.I., F.I.G.R.S.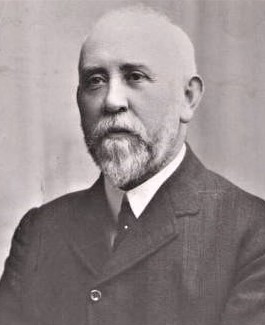 The photograph shows my relative Samuel Smyrl McCurry. He was born in Belfast in 1855 and was the first cousin of my third great grandfather, William Smyrl, 1839-1909.
He was named after his maternal grandfather, Samuel Smyrl, born 1764, and who had died just two years earlier in 1853 and was the eldest son of Isaac McCurry, the owner of a building business, and his wife, Margaret Smyrl, from Coagh, Co. Tyrone. They married in Belfast in 1853.
Samuel secured a good job with the Post Office, initially in Belfast, but which soon brought him to Dublin at about the age of 20. He spent the rest of his career living in south Co. Dublin, and working in the city centre at the GPO on Sackville Street (now O'Connell Street), rising to senior clerk in the Secretary's Office to the Postmaster General.
He was also a published poet and writer of short stories, virtually all of which celebrated the vernacular of the Ulster-Scots dialect. His first book was published in 1907 by Hodges Figgis & Co., in Dublin, under the title In Keswick Vale & Other Lyrics. Several more followed, including his best known, The Smell O' The Turf, published in 1912, with an introduction by his friend Professor Edward Dowden of Trinity College Dublin.
After the 1916 Rising, which saw the GPO burned out, Samuel and his wife Lily retired to Sussex, where their married son, Rev Norman Samuel McCurry, was the rector of Brighton. Norman's son, Rev. Norman Ernest McCurry, went on to become a widely known cleric in the Church of England during the 20th century. Samuel died in Brighton in 1946, aged 91.