Lest we forget
 Tom Burnell's book The Waterford War Dead, from his important 'War Dead' series, lists some 1138 Waterford men and women who died in WW1.  Probably most well known of those listed is John Condon, the Boy Soldier.  His gravestone at Poelcappele, Belgium, among the most visited of all WWI graves, records his age as just 14 years old when he fell in 1915, making him the youngest British soldier of the Great War to die in battle.  We now know however from the record of his birth at Jenkins Lane in October 1896 and the 1911 census returns from Wheelbarrow Lane that John Condon was in fact 18 years old when he died.
The oldest recorded soldier to die in WWI and also listed among the Waterford dead (he was born in India to General Sir Abraham Roberts, a Waterford native) was Field Marshall Sir Frederick Sleigh Roberts VC who was aged 82 when he died of pneumonia while visiting troops in France 14 Nov. 1914.  After lying in state at Westminster Hall and a state funeral he was buried at St. Paul's Cathedral London.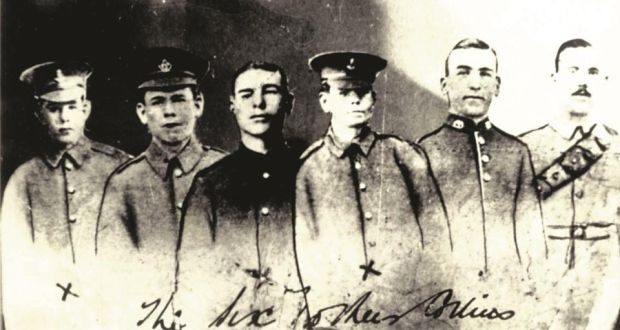 The most tragic story among the Waterford war dead is that of the Collins family. Of the six Collins brothers, sons of Agnes and Thomas Collins, a postman of Philip St. who went off to fight in WWI just two survived. Stephen died aged just 16 on 19 Oct. 1914 at Flanders. Michael died aged 24 in May 1915 also at Flanders. John, aged 22, died at the Battle of the Somme on 9 Sept. 1916. Patrick, aged 30, died 29 March 1918.  Christy was badly injured from shrapnel wounds at Salonika.  His parents received a telegram informing them that he was missing presumed dead.  However to their surprise he returned home to Waterford, a broken man, after the war. William, the last surviving of the six Collins brothers, was sent home on compassionate grounds. He was subsequently recalled to duty but managed to survive the war.
We remember all the Fallen on this the Centenary of Amistice Day