THE KINSALE CLOAK
Ann Marie Coghlan AGI Affiliate (FamilyPast&Place.com)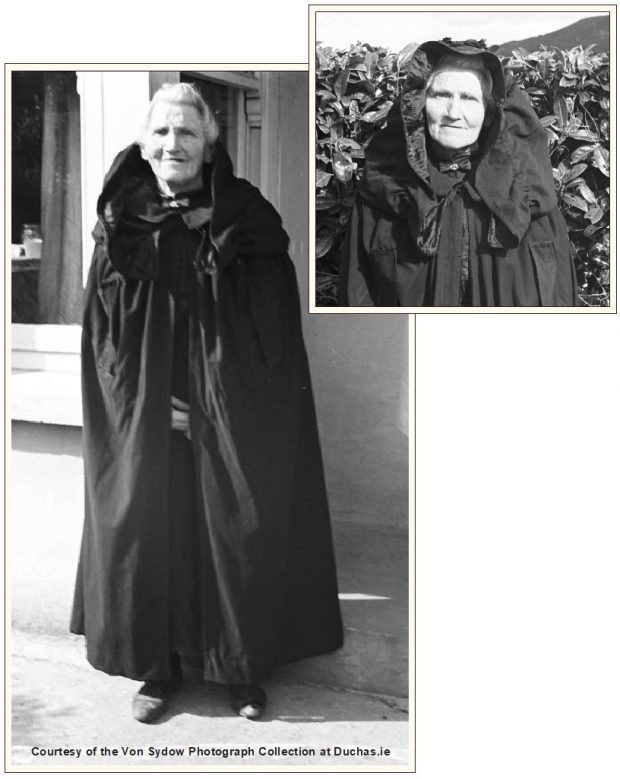 The 'Kinsale Cloak' is a generic name for the distinctive overgarment worn by our women ancestors in Kerry, West Cork and Waterford. Used by urban and rural dwellers, it is a sign of the wearer's personal wealth and status as well as a useful protection against the Irish elements. It is made of tightly woven woollen cloth and usually also lined in wool. The distinctive Hood is made to a local design.
The Cloak is handed down mother to daughter as an heirloom. It may form part of her dowry and in this case will be made to measure for the Bride. It is not unusual to see late 19th and early 20th century family photographs of women wearing their cloaks and were still being photographed as daily wear in 1960s.
In 1920s Specialist Tailors of Cloaks were charging between £10 and £20 for a new cloak. Miss Buckley of Castle St Macroom was the Tailor of Cloaks for Macroom. Miss Mary Kirby of Bandon charged up to £20 for the wool fabric and 5 Shillings to make up the Bandon Cloak. She retired in 1940.
Photographs of the wearers and more information can be found in the National Folklore Collection at UCD. Waterfordmuseum.ie has useful images in their photo archive. Other contemporary records include the Von Sydow Photograph Collection at Duchas.ie and Michael Collins'1922 Election Campaign on Pathe News.
See also the 'Fans of The Kinsale Cloak' group on FaceBook.