December 2009
Launch of Dictionary of Dublin Dissent
About the Launch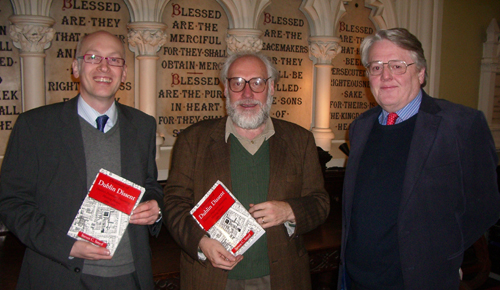 (l-r) Steven Smyrl (author), Prof. Raymond Gillespie and Tony Farmar (publisher)
The launch of Dictionary of Dublin Dissent – Dublin's Protestant Dissenting Meeting Houses 1660-1920 by Steven C. Smyrl took place in the Unitarian Church, St. Stephen's Green, Dublin, on the evening of Tuesday, 1st December. The book was launched by Prof. Raymond Gillespie, NUI Maynooth, who said:
"As a work of reference this book is one which readers will find themselves returning to again, and again, and again. It represents many years of painstaking enquiry and will prove invaluable to those involved in historical research. As such it joins the classic work of H.A. Wheeler and Maurice Craig, 'The Dublin city churches of the Church of Ireland' in enlarging our understanding of the geography and role of religion in the evolution of the modern city. The book is more than just a work of reference, however. It could just as easily be described as a 'Companion', and many readers will enjoy dipping into its pages to learn more about the history of Dublin's dissenting congregations and their places of worship."
About the Book
The religious radicalism of the Cromwellian period encouraged numerous Protestant dissenting sects to establish themselves for the first time in Dublin. Conviction, tenacity and skill (with occasional politic conformity) enabled many of these dissenting congregations to survive and flourish through the succeeding centuries. This book, by carefully reconstructing the congregational histories of Dublin's Presbyterians, Methodists, Baptists, Quakers, Congregationalists, Lutherans, Moravians, Huguenots, and others, highlights the important role (all too often under estimated) played by dissenters in the life of Ireland's capital. In addition the author lists the surviving records of each congregation, the extent of which will surprise academics and genealogists alike.
About the Author
Steven Smyrl is an elder of the united Presbyterian and Methodist congregation at Sandymount in Dublin. He has worked as a professional genealogist for twenty years. Although he specialises in providing legal genealogy services to solicitors, his academic interest is focused on the history of Dublin's Protestant dissenters and their congregations. He has spent many years searching out and cataloguing the surviving records for dissent in Dublin and this book represents the fruits of that research.
About the Publishers
A & A Farmar
Address: 78 Ranelagh Village, Dublin 6
Tel: 00-353-1- 496 3625
e-mail: afarmar@iol.ie
www.aafarmar.ie
Price: paperback: €40 and hardback: €60 (Euro)
Pages: 358
ISBN: 978-1-906353-15-5
(The book is available directly from the publisher, post free)
---
November 2009
TV3 – Friday morning 13th November 2009 – 7.00 to 9.00am.
Ireland AM will be beamed from the Shelbourne Hotel in celebration of the 185th birthday of the Grand Old Dame of St. Stephen's Green. During the show, the hotel's Genealogy Butler Helen Kelly will engage with the presenters on how she assists and empowers guests to re-connect with their Irish heritage and history.
APGI member Helen Kelly is currently giving the second of a number of six week courses on genealogy to the Active Senior IT Society at Terenure Enterprise Centre which is situated in the old Classic Cinema, Rathfarnham Road, Terenure Village.
Malahide Library hosted a Genealogy Seminar on Saturday November 7th starting at 10.15am. The seminar included lectures by representatives of the National Archives, Ordnance Survey Historic Maps & UCD. Among the guest lecturers was APGI member Helen Kelly who delivered a presentation on the role of newspapers in family and local history
---
September 2009
Two APGI members will be giving talks on Saturday 3rd October 2009 at the Irish Family History Society All-day seminar at Dublin City Library & Archives, Pearse St., Dublin 2. Rob Davison will talk on "Researching in Public Records Office of Northern Ireland" and Eileen O'Duill will give a talk on "Forensic Genealogy: Finding Unknown Heirs." All welcome.
For full details see http://www.ifhs.ie/meetings.html.
---
August 2009
EILISH ELLIS (née CLUNE) (1919 – 2009)
AN APPRECIATION
Eilish Ellis (née Clune) died at her home in Sandyford, Dublin, on Sunday 19 July 2009 in her 91st year. As a genealogist she was practicing up to some ten years ago, retiring from in-house researcher for the Genealogical Office, a branch of the National Library of Ireland. She was mentor to many of to-day's practitioners, very generously giving time, encouragement, guidance and information to both novices and the small band of seasoned professionals.Eilish, of the Clune family of Quin, Co. Clare, whose father was the National School teacher, was first and foremost an historian. She graduated with a first class MA from the National University of Ireland (University College Dublin), with the added distinction of having been one among the first three MA students of Robin Dudley Edwards, (1909-1988), the newly appointed (1945) professor of modern Irish history at UCD.
Eilish Clune married Henry (Harry) Ellis of Newry, Co. Down in 1946; it was a very happy and fulfilling marriage and the Ellis home in Sandyford, was an open house or a happy and generous home from home for their respective nieces, nephews and extended families and friends.
Eilish worked with Robert C. Simington (1885-1976) on the Quit Rent Office records and by the mid 1850s she had joined the small freelance panel of genealogical researchers at the Genealogical Office, which was located in the Bedford Tower, Dublin Castle, having been invited by her friend Gerard Slevin, who had been from 1944 de facto deputy to Chief Herald and Genealogical Officer Edward MacLysaght (1887-1986) and on the retirement of Edward MacLysaght in 1954 was appointed Chief Herald. One of her most high profile cases was that of Charles de Gaulle's Irish ancestry, researched in the 1960sfor the French president's state visit to Ireland.
The number of research commissions for the Genealogical Office was steadily increasing and it is to be remembered that, until the mid 1960s, the day of easily accessible genealogical and historical finding aids and indices, was yet to come, with the world wide web and digitised searchable primary source material not on the horizon. Eilish was a pre-internet genealogist and historian.
During the 1960s Eilish was also teaching history to the Froebel students at Dominican College, Sion Hill, Blackrock, Dublin. Eilish had a strong sense of history and place and was also a good raconteur – all of which benefited the listener. For the small band of aspiring genealogists she was most generous with her time and knowledge and was instrumental in setting up a steering committee to set out standards and methods of research for professional genealogists which in turn led to the founding of Association of Professional Genealogists in Ireland ().
She served as President of for its first ten years, and in 2004 was elected its first Fellow.
She played an active role in several societies and associations: – Royal Society of Antiquaries of Ireland; the North Munster Archaeological Society; Irish Historical Society; The UCD Women's Graduates Association (WGA); in 1997 she was elected a fellow of the Irish Genealogical Research Society (IGRS). Her Roman Catholic religion was central to her daily life; without any fanfare, during the years when annual sales of work were held at the Mansion House she took up her position at the stalls and usually persuaded a colleague or two to assist! She participated in and was subsequently president of an Apostolic Work circle for which she was given due recognition by the Vatican.
For Coimisiún Lámhscríbhinní na hÉireann/ Irish Manuscripts Commission (CLÉ/IMC)Eilish Ellis contributed 'State-Aided Emigration Schemes from Crown Estates in Ireland c 1850' to Analecta Hibernica No. 22 (1960), and with her friend and colleague P. Beryl Eustace, edited Registry of Deeds, Dublin: Abstracts of Wills 1785-1832, volume III (1984).
Ar dheis Dé go raibh a hanam uasal
Máire Mac Conghail
Lúnasa 2009
---
July 2009
APGI member John Grenham is speaking to members of the British Isles Family History Society in Ottawa and the Ontario Genealogical Society in Toronto on August 8th and 9th next.
You can read more here and here
---
April 2009
On the 14th January Steven Smyrl and Robert Davison, APGI members and CIGO Executive Liaison Officers, gave oral evidence before the Northern Ireland Assembly's Finance and Personnel Scrutiny Committee in relation to the Civil Registration Bill 2007. The Bill will amend the Births and Deaths Registration (Northern Ireland) Order 1976 and thereby allow the General Register Office of Northern Ireland (GRONI) to modernise the delivery of this vital service. Clauses 13 and 22 of the Bill will allow the creation of an Internet-based access service to scanned images of the original register entries, which date back to 1845. Scanned images will be available on-line of all birth records compiled over 100 years ago; marriages over 75 years ago and deaths over 50 years ago. It is hoped that this service will begin within the next two years.
In briefing notes released to CIGO before the evidence session reference was made by GRONI to the future improvement in data recorded in death registrations. In future, parents' names and their occupations are to be recorded for children who die aged 16 years or under. Both CIGO and made the point that within the UK the recording of parents' names in all death registrations has taken place in Scotland since 1855 and in fact in the Republic of Ireland it has also been the case since 2006. On behalf of and CIGO, Robert and Steven went on in their evidence to highlight the importance of this issue and pressed that all future death registrations in Northern Ireland should include parents' names and not just those of children who die aged 16 years or under.
Following on from the oral evidence session, the Assembly Committee has now published its report in which it supports the proposal to include parents' names in all future death registrations in Northern Ireland by listing its amongst report's 'key recommendations'.
You can read more about this issue here.
---
March 2009
Rosemary ffolliott
(1935-2009)
It was with sadness that learned of the death of Rosemary ffolliott, who died in England on Thursday 12 March. Miss ffolliott was widely recognised as Ireland's premier genealogist of the latter half of the twentieth century. Her work and her approach to the subject had a marked influence on the development of genealogical research in Ireland. She retired from professional research several years before the founding in 1986 of the Association of Professional Genealogists in Ireland, so she was never a member. However, has benefited greatly from her endeavours.
Miss ffolliott published her first book, a history of her mother's family, Pollet Virtus: The Pooles of Mayfield, when she was just twenty years old. From the 1950s to the 1970s she was a member of the panel of freelance researchers engaged by the Genealogical Office. At the time the small GO panel included almost all professional genealogists practising in Dublin. Standards for research and report writing developed within this group, largely influenced by Miss ffolliott and Eilish Ellis, 's first President. The "GO report" format is the one favoured by most APGI members today.
Rosemary ffolliott was a dynamic member of the Irish Genealogical Research Society in the early 1960s and was for a time editor of its journal, The Irish Genealogist. In addition she revised A Simple Guide to Irish Genealogy, the original of which had been written by Father Wallace Clare, founder of the IGRS. It was the first guide book ever published on Irish family history. Miss ffolliott's version, which was virtually a new book, appeared in 1966. That year she was made a Fellow of the IGRS, being the first woman so honoured and (at 30 years old) possibly the youngest ever recipient of the distinction.
In 1969 she began publication of The Irish Ancestor, a journal of family and social history topics. It ran until 1986. Two other major works were her "Index to Biographical Notices Collected from Newspapers, Principally Relating to Cork and Kerry, 1756-1827" (1969) and "Index to Biographical Notices in the Newspapers of Limerick, Ennis, Clonmel and Waterford, 1758-1821" (1985), both of which are quite widely available on microfiche. In 1980 Irish Genealogy: A Record Finder, edited by Donal Begley, appeared and it included several chapters by Rosemary ffolliott which influenced later writings on genealogical sources. Her chapter on the Registry of Deeds has not been surpassed.
Miss ffolliott's interests included furniture, silverware, costume, and all things connected with the history of Irish mercantile and gentry families, subjects about which she had in-depth knowledge. She never lectured, as she was afraid that a slip of the tongue might be weighed against her body of written work. Her style of writing was clear and engaging and she was very comfortable about committing her work to print, as she was meticulous about proofreading.
In the late 1970s she withdrew temporarily from the GO panel in order to write a book on Irish costume. As it transpired she never returned to the panel and, to her great disappointment, the book never reached publication. In the 1980s she moved from Dublin to Fethard, Co. Tipperary, where she remained until a few years ago when she went to live in the English Midlands. After much begging on the part of the conference chairman, she almost attended one day of the 3rd Irish Genealogical Congress at Maynooth in 1997, but early morning fog in Fethard prevented the visit. Though she maintained contact with some of her friends and associates from the world of genealogy, she never partook in its activities in the last two decades of her life. Not surprisingly many people who got involved in the field in the meantime thought she was a very elderly woman or a figure from the distant past. In truth the former prodigious force of Irish genealogy was a very active lady who busied herself with her animals and her garden. Her sudden death at the age of 73 was sad news for her friends, but she passed away while tending her garden and there could be no more appropriate farewell for this remarkable woman.
---
30th March to 5th April 2009.
As part of the Cork Lifelong Learning Festival, member Rosaleen Underwood will give a talk, "Genealogy in Cork",and also provide a Genealogy advisory service at the Cork City & County Archives.
---
16 February 2009
APGI member Rosaleen Underwood will give a talk, "Introducing Genealogy", on Monday, 16th February 2009 at the National Print Museum, Beggar's Bush, for FETAC Local History students as part of a heritage project.
---
January 2009
DIPLOMA IN FAMILY HISTORY (GENEALOGY)
A new Diploma in Family History is being presented by Independent Colleges in Dublin's Dawson Street in conjunction with . It involves a series of evening classes run over twelve weeks from February to April. Two APGI members, Eileen Ó Dúill and Paul Gorry, are the course leaders. The other APGI members who are lecturing are Mary Beglan, Robert Davison, Steven ffeary-Smyrl, Helen Kelly, Máire Mac Conghail and Joan Sharkey. While students will attend classes for three hours each week, the emphasis is on learning through practical application between classes. The Independent Colleges web site description of the course includes the following:
"This course is suitable for anyone beginning to explore family history research, whether as a hobby or with a view to developing a career in the field. The records and skills would also be applicable to those interested in local or house history."