News 2013
October 2013
---
Raheny Business Awards
[ Affiliate Anne-Marie Smith, of Into The Past Genealogy Services, receiving "Best Service Award" from Mr. Justice Peter Kelly, at the Raheny Business Association Awards Night on 8th October 2013 at St. Francis Hospice Conference Centre, Raheny.]
Around 120 people from the local Raheny business community Raheny www.rahenybusiness.com gathered on 8th October 2013 for the presentation of the Raheny Business Awards. Held in the conference and training centre at St. Francis Hospice, Raheny, the awards were held to recognize the Raheny businesses who are going above and beyond the call of duty. Votes were cast online, in shops in the village and through an entry form in the Northside People. There were four categories including one for "Best Service", which was awarded to Anne-Marie Smith, " Affiliate", of Into The Past Genealogy Services, Raheny. Anne-Marie also received an award in recognition of her role as one of the founder members of the Association in 1988.
[Mr. Justice Peter Kelly with founder members of Raheny Business Association including Affiliate Anne-Marie Smith]
---
December 2013
member Fiona Fitzsimons has been elected to the Board of the international group APG for Region 6 (Ireland, N. Ireland, Scotland, England, Wales) at their November meeting in Colorado, USA.
---
September 2013
Independent Colleges Course
30 September 2013
The Independent College, Dublin, Diploma in Family History commences on Tuesday 8 October. The 12-week course is presented in association with . The co-ordinator is an member, as are all the other eight lecturers. For this autumn's course two new lecturers are joining the team.
Margaret Jordan, BSc, M, is based in Cork and she has a particular interest in both Cork family history and genetic genealogy. Her involvement in genealogy began in 1997 and she has used DNA research extensively in tracing her family. Before developing a career in genealogy Margaret was a secondary school teacher. She is involved in managing the Ireland yDNA Project and the O'Shea yDNA Project.
Rosaleen Underwood, M, is also a Cork woman, but based in Dublin. She has been a member of for eight years, having begun her interest in genealogy back in 1996, attending classes at her local library. She followed this with a diploma course at UCD and developed a career, finally applying for membership. One of Rosaleen's particular interests is in surnames and forenames as applied to family history.
Margaret and Rosaleen replace Mary Beglan and Eileen Ó Dúill, who stepped down this year from the Independent College lecturing panel having been part of the team since the course began in February 2009. Some eighty students have completed the Diploma in Family History since then, including some who are now Affiliates. As well as Margaret and Rosaleen, there are seven members presenting the course. They are Robert Davison, Steven ffeary-Smyrl, Helen Kelly, Máire Mac Conghail, Nicola Morris, Joan Sharkey, and the course co-ordinator, Paul Gorry.
The course is aimed at, and attracts, a combination of hobbyists, aspiring professional genealogists, and those working in archives or libraries who wish to be better equipped to deal with genealogical enquiries. On completion of the course a successful student will have acquired the skills with which to develop their knowledge of genealogy through practical experience, and will be equipped to apply their skills to new sets of records. Further details will be found on the Independent College website: www.independentcolleges.ie/faculty-of-arts/diploma-in-family-history-genealogy
---
Ask the Professionals
20 September 2013
The Association of Professional Genealogists in Ireland () are hosting a free advisory service at Back To Our Past in the RDS from 18th-20th October 2013. You can book a 20 minute session with a professional accredited genealogist to get advice on researching your family tree.
To book your free session, fill in the booking form at: http://www.accreditedgenealogists.ie/consultationform.html .
We look forward to seeing you in October.
---
Organises BTOP Presentation Programme
5 September 2013
Back To Our Past takes place on 18-20 October at the RDS, Ballsbridge, Dublin. Today, as organisers of the official BTOP Presentations, are pleased to announce the launch of the presentations programme. As usual, these talks run in two concurrent strands throughout the event, and admission to them is free for all those attending BTOP. acknowledge the close co-operation of Rootsireland.ie (the Irish Family History Foundation), the sponsors of the official BTOP Presentations.
This is the fourth year of BTOP and the third time the presentations have been organised by . This being one of the main Irish heritage events during the year of The Gathering, the Minister for Arts, Heritage and the Gaeltacht, Jimmy Deenihan, TD, has accepted an invitation to officially open the presentations at 12.15pm on Friday 18 October. The talks cover a wide range of topics that should appeal to military history and local history enthusiasts as well as the genealogists who normally populate the event. The full timetable of the presentations may be seen on the Programme Schedulepage of the BTOP website.
TThis year the two strands of official Presentations are supplemented by a special 'fringe' strand of DNA lectures. This strand is being organised by ISOGG (International Society of Genetic Genealogists) on behalf of FamilyTreeDNA. These lectures will run at the same times as the official BTOP Presentations, affording visitors a choice of three talks at any one time. The timetable for the DNA lectures may be found on a blog blog dedicated to them.
Details of 's other activities at BTOP will appear here in the coming weeks.
---
IGRS Marriage Finder
The Irish Genealogical Research Society's Marriage Finder has now reached 50,000 names. It's unique and is fast becoming an invaluable source for references to pre-civil registration marriages in Ireland.
It comprises information gathered from an array of unusual and under utilised sources. Chancery bills, diaries, deeds, marriage settlements, memorial inscriptions, wills, family letters and newspaper cuttings are just a few of the many sources consulted.
The database is online and free to use on the website of the IGRS. Founded in 1936, the Society is the world's oldest dedicated to the pursuit of Irish family history.
---
July 2013
Free Genealogy Open Days in Dublin City Library and Archive
Trying to trace your family tree?
Then come along to a series of FREE Genealogy Open Days in the Dublin City Library and Archive on 26th July, 9th or 16th August where you can meet and get advice on your research from genealogists, including John Grenham, Mary Beglan and Joan Sharkey. Drop in anytime between 10.30am and 4.30pm to get information and a free search on family history resources. Various Irish genealogy organisations including , Irish Family History Society, the Genealogical Society of Ireland, Ancestor Network and the Irish Genealogical Research Society will have information stands at the open days. Dublin City Library and Archive will also showcase its array of family history resources.
It's all free and a great opportunity for anyone, beginners, experts and tourists, to start exploring or to progress their family tree.
When: Fridays: 26th July, 9th August and 16th August from 10.30am to 4.30pm
Where: Dublin City Library and Archive (conference room), 138-144 Pearse Street, Dublin 2
www.dublincitypubliclibraries.ie
01-6744870 or 01-6744800

---
General Register Office's Dublin Research Room to Move
The General Register Office's Research Facility is set to move from its convenient and well-appointed premises at the Irish Life Centre, Lower Abbey Street, to a dilapidated former Dole Office on Werburgh Street.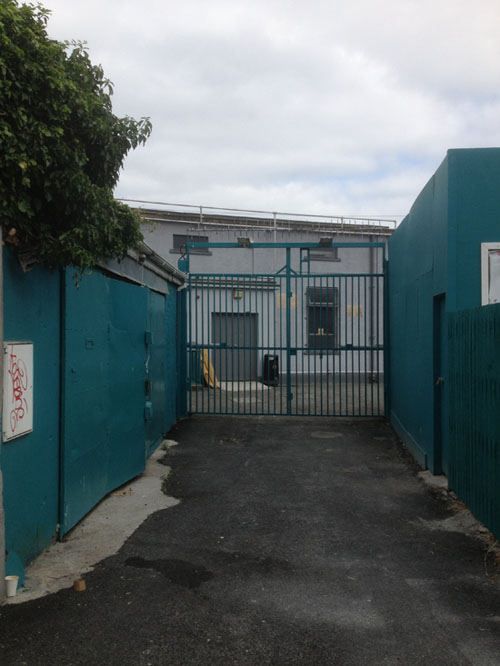 [The approach to Werburgh Street Dole Office, location of the new GRO Research Facility]
The lease on the GRO's current facility – where the public can trace their ancestors through access to birth, death and marriage records – will expire at the end of August. Located on Lower Abbey Street, the current facility is close to Connolly Station, LUAS, DART and many bus stops. For genealogists, it's also next to the Valuation Office, where information about ancestors' land holdings can be traced back to the 1850s.
By comparison, the proposed new home for the facility is on a side street in a run down and dilapidated former dole office, protected by high security fencing topped with barbed wire. Given that this is the year of The Gathering, it's about as unwelcoming as it could possibly be. All the outward signs suggest an area riddled by crime and antisocial behaviour.
When asked about the move Steven Smyrl, President of the Association of Professional Genealogists in Ireland () and executive liaison officer for the Council of Irish Genealogical Organisations (CIGO) said that "it is an appalling proposal, one which cannot have been given any real consideration otherwise it would never have got this far."
"If the government wants to demonstrate its belief that genealogy has a role to play in our economic recovery and if new premises must be found soon, then the underused Dublin Tourism Centre in St Andrew's Street would be one ideal location. The city is full of unused office space without the need to dump Ireland's 'Mecca' for roots tourism in an unsavoury side street."
"I call on Joan Burton, the Minister for Social Protection and who has responsibility for the GRO, to immediately step in and provide family historians, from both home and abroad, with a new facility equal to if not better than the current one at the Irish Life Centre."
Thousands visit the facility each year and generally find the location of the current premises far better than their previous one in Joyce House, Lombard Street East. However, rather than having to fight for the facility to stay at its current location, family historians would like to hear that the GRO is listening to their needs and will finally allow public access to its computerised database of birth, death and marriage records dating back to 1845. Currently, researchers must wade through individual annual hardcopy indexes and searches over many years can be very time consuming.
By contrast, the GRO in Belfast has full public access to its computerised records with enhanced index data and by the end of year will also allow access to historical records through the Internet. Its research room is based in a well-appointed facility in the centre of Belfast.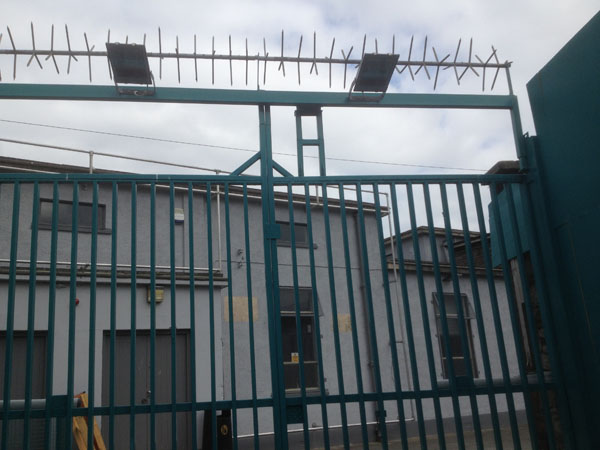 [Werburgh Street Dole Office, location of the new GRO Research Facility]
---
Hints of History
The Hints of History event at Russborough House (www.russboroughhouse.ie) in West Wicklow on 6-7 July 2013 includes a series of talks. One of these is being given by an member. 'Genealogy – Exploring Your Family History' will be delivered at 1pm on Saturday 6 July by Paul Gorry, M. Paul replaces his colleague Pamela Bradley, who was originally to present a lecture. As well as being a longstanding member of , Paul was a founder member of the West Wicklow Historical Society.
---
May 2013
GRO Indexes to Go Online
's President, Steven Smyrl, warmly welcomes the news that Ireland's historic indexes to births, deaths & marriages are soon to be made available online and free-to-view through the government's genealogy portal www.irishgenealogy.ie. Through its own lobbying – and through its participation in the Council of Irish Genealogical Organisations – has played a significant role over the past quarter century in canvassing public representatives and civil servants in order to achieve greater access for family historians to the building blocks of Irish genealogy.
Published yesterday, the Social Welfare and Pensions (Miscellaneous Provisions) Bill 2013, contains amendments to be made to the Civil Registration Act 2004 which will allow historic index data to be placed online. On hearing the news Steven Smyrl said "This is most welcome news and is pleased to have played its part in achieving one of Irish genealogy's longstanding aims."
---
New Affiliates
We are delighted to announce that has to date admitted three Affiliates; Sandra Doble, Bernadette Walsh and Anne-Marie Smith. All of their details can be found on the website and we look forward to meeting the new affiliates at the next professional development event.
[L-R: Sandra Doble, Anne Marie Smith, Presdent Steven Smyrl and Bernadette Walsh]
---
April 2013
Tom Cruise's Irish Ancestors
On Wednesday 3rd April, the Department of Foreign Affairs held a reception at Iveagh House to welcome Hollywood star Tom Cruise to Ireland.
In advance of the reception, Tom Cruise met with member Fiona Fitzsimons and Helen Moss of Eneclann for a personal brief on his Irish family history. Fiona said:
"Tom Cruise's bona fides as an Irishman are beyond doubt! We traced his Cruise ancestors back to the 1190s in Ireland when they received a grant of crown lands in the Naul, Grallagh and Hollywood in north county Dublin. We traced related families, the Russells and Warrens to the first wave of Anglo-Norman settlement in the late 12th and early 13th Centuries. His Irish roots were not only via the conquering Anglo-Normans. We traced his Gaelic Irish lineage back to an ancestor Níall Glundubh Uí Neill who died in 919A.D. Tom's ancestors were the Catholic aristocratic and gentry families dispossessed by Cromwell, but who remain visible in the historic records into the 1700s."
Afterwards the Tánaiste Eamon Gilmore presented Cruise with a certificate of Irish Heritage to acknowledge his Irish roots.
The research into Cruise's family was commissioned by Tourism Ireland to promote the Gathering.


[L-R: Mark Henry of Tourism Ireland, Fiona Fitzsimons of Eneclann, Tom Cruise and Helen Moss of Eneclann]
---
March 2013
Genealogy Day at Cork City & County Archives
Rosaleen Underwood M will be contributing to the Genealogy Day at Cork City & County Archivesas part of the Cork Lifelong Learning Festival when she will be speaking about New Online Sources for Genealogy on Friday, 22nd March at 3.30pm. Booking essential.
---
St. Patrick's Festival Family History Centre
members Mary Beglan, Aiden Feerick, Fiona Fitzsimons, Gerry Kennedy and Eileen Ó Dúill will provide a free genealogy advice service and talks during the week of the St. Patrick's Festival (14th to 18th March).
The event, sponsored by FindMyPast.ie, will take place in the Discover Ireland Centre (St. Andrew's, Suffolk St.). Opening hours are 10am to 5pm Thursday to Saturday; 11am to 4pm Sunday 17th March; 11am to 3pm on Monday 18th March.
For further information, see www.findmypast.ie
---
January 2013
RTE's Dead Money rises to IFTAs shortlist
RTE's hit show Dead Money (http://www.rte.ie/tv/programmes/dead_money.html) has been shortlisted in the 2013 Irish Film & Television Awards. The six-week series, produced by production company ProMedia, proved hugely popular during its initial run in March and April 2012 and has since been repeated twice. Depicting the work of Massey & King, a probate research firm owned by Steven Smyrl, President of , and his brother Kit, each episode of Dead Money set the search for next-of-kin to an unclaimed estate in an historical and emotional context in which the located relatives discovered their entitlements to a sum of money – sometimes a small fortune!
Dead Money's IFTA shortlist was based upon an episode which told the story of the search for the nearest relatives of the late Alan Murray, a former taxi driver living in Sligo. After searching in Ireland and overseas and tracking down various cousins, a long-lost daughter, Angela, was discovered some seven years after Alan had died. Never having known about her Irish family, viewers saw a tearful Angela finally meet the relatives she never knew existed. In a remarkably poignant scene, she also learned that her father — who she believed had abandoned her mother — had maintained contact and visits while she was still a youngster.
On hearing of the IFTA shortlist, Massey & King's Steven Smyrl said: "Both Kit and I are thrilled by the nomination and want to thank all the team at ProMedia for their hard work in turning the idea into reality. This particular episode portrayed a difficult and heart-breaking story in a sensitive manner and demonstrated how probate research can deliver more than just money."
Organised by the Irish Film & Television Academy, this year's IFTAs mark the 10th Anniversary of the Awards which promise to be an unforgettable occasion, celebrating Ireland's outstanding film and television productions in 2012 and reflecting upon a decade of exceptional Irish art, creativity and entertainment.
---
Steven and Kit Smyrl