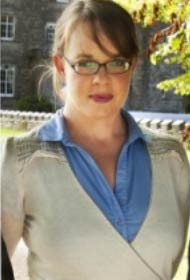 Timeline Research Ltd,
146 Tritonville Road,
Sandymount,
Dublin 4,
Ireland.
Tel: 353 (0)87 632 5673
E Mail: research@timeline.ie
WWW: www.timeline.ie
Areas of research: All of Ireland
Born in Kenya to an English father and Irish mother, Nicola draws on a rich family history that can be traced back to the court of Henry VIII, the breweries of Lancashire, the farms of Yorkshire, Cork city publicans and a mysterious Italian great great grandmother.
She grew up in Dublin city and obtained a honours degree in History from Trinity College, Dublin.    She started working as a genealogist in 1999 and in 2007 established Timeline Research Ltd.  In 2010 she joined Accredited Genealogists Ireland (AGI) and has served as an ordinary member of Council, Hon. Secretary and Vice President and is currently the President of AGI.
Nicola works very closely with the production company for the BBC TV programme Who Do You Think You Are? as well as the Irish and US versions of the show, which aired on RTE, NBC and TLC networks. Nicola has appeared on screen with Rosie O'Donnell, Judy Dench, Jeremy Irons, Graham Norton, Chris Moyles, Julie Walters, Emma Willis and Paul Merton, among others. Nicola was also one of the presenters of the first series of The Genealogy Roadshow for RTE. She was a researcher for and contributor to The Tenements, an award nominated series for TV3 as well as a researcher and presenter on The Great House Revival for RTE and she works closely with other Irish and international production companies on programmes about genealogy and Irish history.
Nicola lectures on genealogy at University College Cork, University of Limerick and City Colleges, Dublin, and has also lectured on the Archives and Record Management MA in University College Dublin. She has given talks at various events, such as Back To Our Past and lecture series at the National Archives of Ireland and National Library of Ireland.
She has had articles published in the Who Do You Think You Are? and Irish Roots magazines and has also written a history of the Fulbright Commission in Ireland.
As well as offering a professional genealogical research service, Nicola also works on house and building histories and histories of institutions and organisations.
In 2017 she was appointed to the Board of the Irish Manuscripts Commission and in December 2021 she was appointed to the Genealogy and Heraldry Committee of the Board of the National Library of Ireland.
Back to Members